The Reports Library
The Most Comprehensive Behavior Insights for Students and Staff
The Secret Feature of Our Reports:
Multiple Expert Authors
One of the secrets to the power in our reports lies in the fact that we feature amazing work from authors with a broad range of expertise, research and PhD's.
Our authors works have been tailored to be easy to understand by students and staff alike.
This allows you, your students, and their parents the ability to quickly grasp important concepts from across many important areas.
The Anatomy of a Report
Our reports have many unique and powerful features, that have been refined over half a dozen years to improve the experience and heighten readability on screens AND on paper. These features all contribute to the power of our personally customized reports.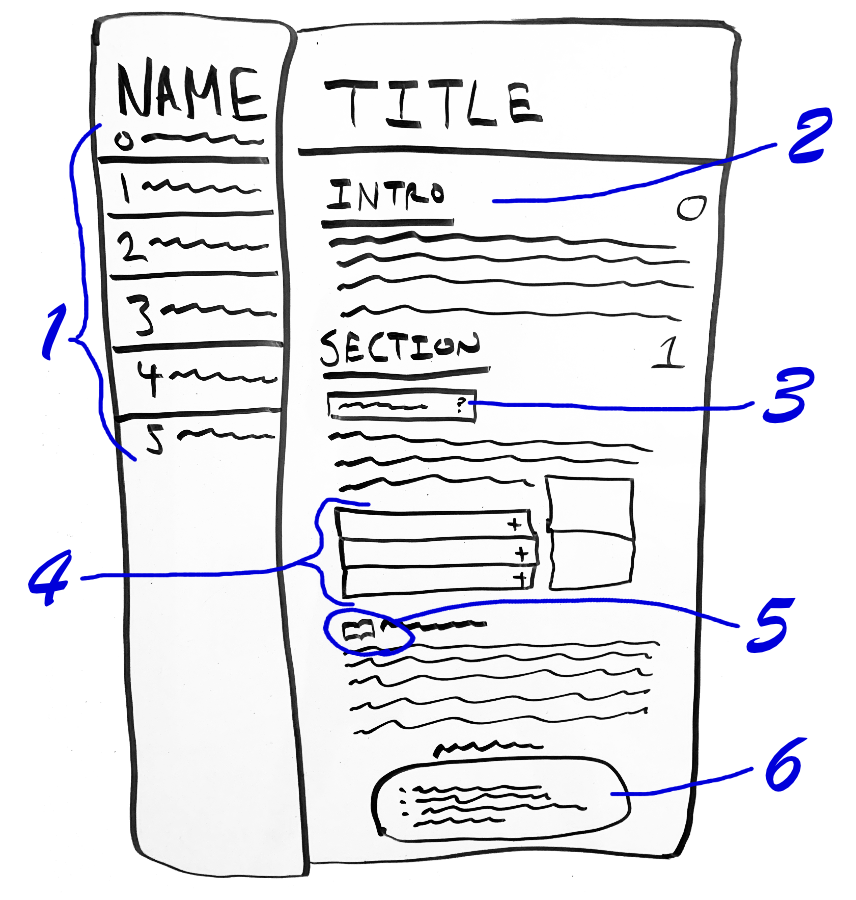 1)

Scrolling Table Of Contents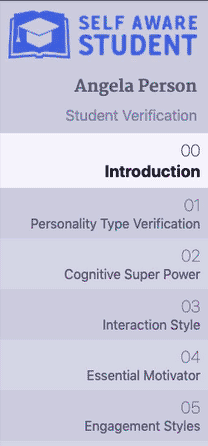 All Self-Aware Student reports have their own introduction, offering guidance and help to students before they dive into the details. This report introduction can be customized by the school to help fit the school's unique needs.
3)

Extra Help Easily Accessible
Every report section has both a short description and a longer, more detailed help. This longer help element lets students know more about what the report section covers and how it can be used.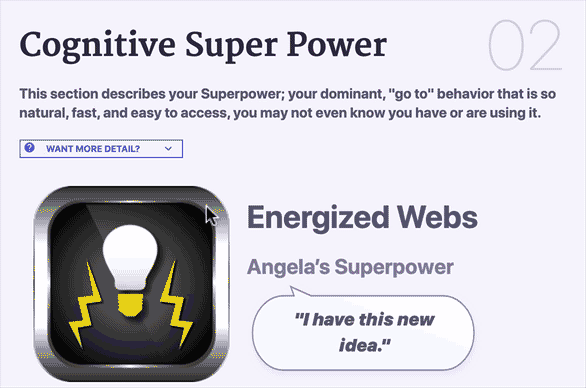 In many places in the reports there is additional details about different psychological concepts and tools. These details explain things in greater depth when a student wants more info.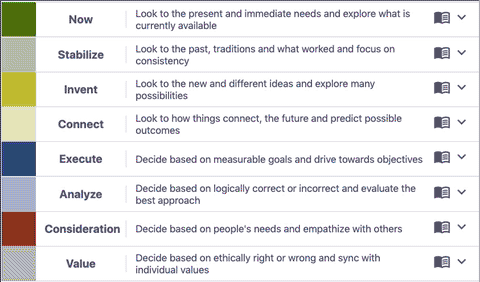 5)

Advanced Descriptions With Helpful Iconography
Helpful icons, like the book icon below, make it easier for students to find more detailed information when they want it.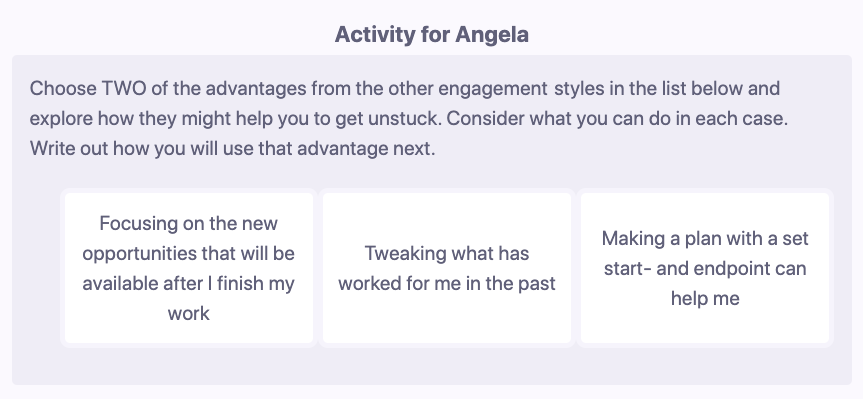 Mobile Friendly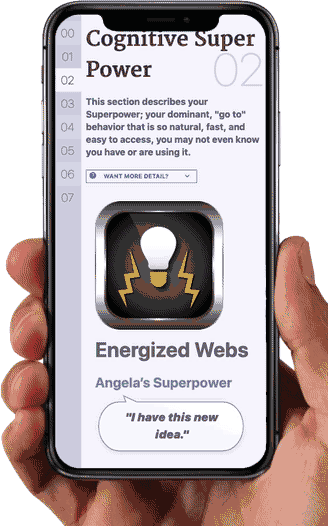 Print Ready with Full Table of Contents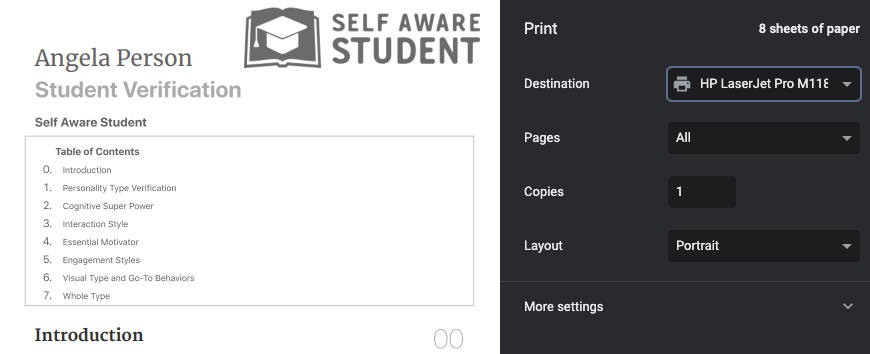 Verification Report
This is where everyone starts after completing their Best-Fit Wizard activities. This report allows people to explore and verify their best-fit psychological types. This allows us to make sure that before we give any other insights or advice, we have the closest fit possible.
It is critical that everyone goes through verification
Students can and should come back to this report as they understand themselves better so they can re-verify their fit
Insight Report
This is the "standard" report after verification has been completed. It includes many of the report sections in the verification report as well as additional sections focused on describing and providing insight into what makes the student who they are.
Great for printing and sharing with others
At School Report
This is where the "rubber meets the road" for many students. Here the student can find practical and personally tailored advice to help them be successful in multiple areas of school. From how to study, to choosing courses and problem solving.
Use this report when starting at a school, starting classes, when having trouble at school and as needed.
How To Teach Me
This report is packed with advice on how to help. A student can use this themselves to help alter their learning environment. It can also be shared with others who are in a position to help, those willing to work with a student's specific needs.
A "developmental" report, a "diversity" report for others
Use this report when looking for ways to improve learning circumstances. Perfect for handing to parents, mentors, tutors and teachers.
In Relationships Report
This report focuses on providing practical advice to help the student in their relationships with others and with communication. This report covers personal relationships with friends, dating and relationships at home.
How to improve relationships, communication and dating.
In Life Report
This report focuses on providing practical advice to help the student outside of school, in their interactions with others and especially in choosing where to work and how to be more successful when working.
Build competence and confidence by coming back to this report again and again to work on specific items
Counselor and Teacher Reports
Counselor Insight Report
This is the "standard" report and similar to the Student Insight report. This provides multiple perspectives on the student and has additional help for staff members.
An overview of how each student's personal style makes them who they are
Mentoring & Development Report
This report has multiple counseling and mentoring sections covering different aspects of a student's experience. Each section focuses on giving specific phrases to say to students, how to help with the student's most likely problems and activities to have the student complete.
Phrases to say to and activities to print out for the student
Teacher Development Report
This report is for helping teachers become better at teaching. It approaches this from several directions. First, helping them identify and maximize their individual strengths. Second, providing tools for those that work with the teacher, Finally, providing practical and easy differentiated teaching techniques that actually work.
Maximizing a teacher's strengths and be more effective.
Class Report
This report has a large variety of sections covering different aspects of a group of students. Each section focuses on different aspects of the class. Additionally, it breaks the class into a variety of groupings to make it easier to see how the different groups of students have different needs and preferences.
Specific approaches for groups of students
Self-Aware Student is
Pay-What-You-Can
Get started at a fee that fits your school best.